12

Child-friendly resources for Reconciliation

Nicole Rousseau
We're mostly white educators at our service and we're not sure; how much are we allowed to share of Indigenous culture? Are there any guidelines?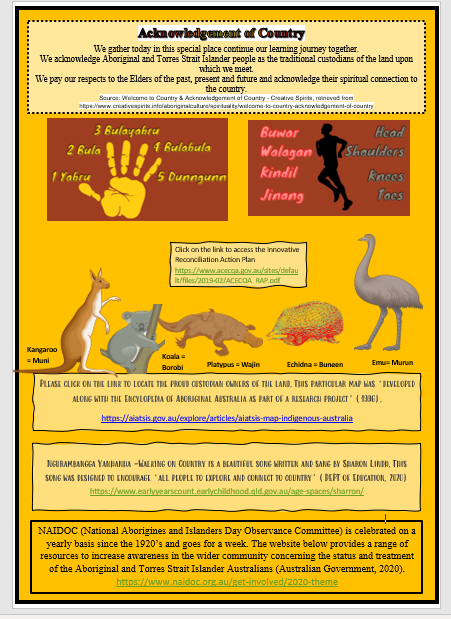 Download the resource:
Rousseau Indigenous Resource
The Department of Education and Training states that, "An understanding of and respect for Australia's Indigenous peoples — their personal histories, beliefs and values, languages and lifestyles — is important in many ways" (Queensland Government, 2011, p. 9). Additionally, it is indicated that as "teachers, students, parents and principals — we all bring our own perspectives, our own ways of seeing the world, through the school gate. Indigenous and non-Indigenous — we all bring our share of 'cultural baggage'; our assumptions about the 'other'" (p. 9). Due to this, this resource has been created to assist educators in the teaching and expanding of children's knowledge in the early years about the Indigenous and diverse culture present in the local community (DEEWR, 2009).
The resource has been designed in a way to provide non-Indigenous educators with an easily accessible resource that engages children with Aboriginal culture through the integration of the local Aboriginal language (ACECQA, 2017). Indigenous people's culture and language are fundamental to their ways of living. "Their heritage and spiritual values have enabled them to resist the colonialism that still exists today" (Australians Together, 2010).