14

Community resources and services

Katie Walsh
We're really struggling with making connections with the local community elders. Can someone put together some ideas for this, specific to a location in Queensland?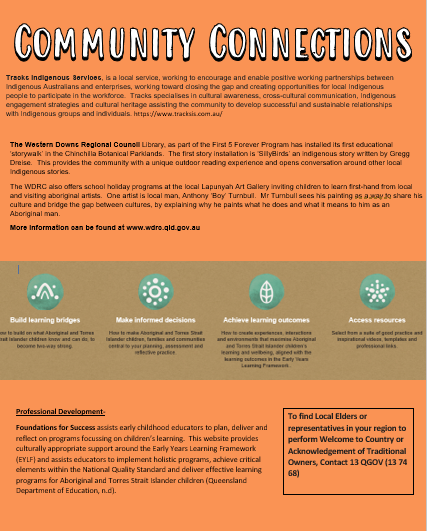 Download the resource:
Walsh Indigenous Resource
Community connections is an information sheet which aims to connect educators with local Indigenous people to share knowledge and culture. The local council has several community initiatives in place and educators can use the information and contact details from this resource to gain deeper understanding of local Indigenous histories and culture through making connections with local communities. It is important to maintain open communication and collaborate with both parents, carers and the wider Indigenous community if educators are to successfully embed Aboriginal and Torres Strait Islander histories into teaching and learning. According to the National Aboriginal and Torres Strait Islander Education Strategy, partnerships are characterised by listening and responding, collaborative information sharing, informed decision making and active engagement (Education Council, 2015).  Teachers need to be proactive and seek assistance to work with the local Aboriginal community. Buxton (2017), writes that Aboriginal community consultation enables teachers and school leadership teams to gain awareness of local views and sensitivities.
The link to Foundations for Success is a useful tool for teachers to undertake professional development on planning and delivering programs, documenting and reflecting on children's learning and provides guidance and culturally appropriate support to implement the Early Years Learning Framework focusing on Aboriginal and Torres Strait Islander children, families and community (Queensland Department Education, n.d).  Proficient teachers should have the ability to design and implement effective strategies that are responsive to local community, cultural settings and histories of Aboriginal and Torres Strait Islander students (AITSL, 2017).
To continually upskill as an educator, it is important to participate in professional development opportunities to improve teacher quality. Teaching is a continually changing profession and teachers have to be open to implementing new ideas into an ever-evolving curriculum.  Professional development allows teachers to upgrade their skills and learn about other teaching strategies expanding their knowledge of students varying needs, learning styles and ways to incorporate them into the classroom. This supports the Australian Professional Standards for Teachers (AITSL, 2017) Standard 6.2, which states teachers must understand relevant and appropriate sources of professional learning.