13

Sourcing local knowledge: Winnam (Wynnum)

Melissa Mikkelsen
I really want exposure and access to Indigenous cultural resources. Where can I source local knowledge and stories that are actually meaningful and within a context that my local Indigenous children understand?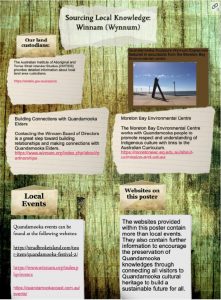 Access the resource:
https://edu.glogster.com/glog/ecl3100-mikkelsen-glogster/485pvja3bls
Sourcing Local Knowledge: Wynnum is a digital poster with links to local websites. It has been designed to be electronically sent to educators. It provides information about building connections with local Quandamooka people who are the local land custodians (Australian Institute of Aboriginal and Torres Strait Islander Studies, 2019). The poster contains Australian Curriculum links intended to provide inspiration to early years educators to create authentic connections to the Quandamooka people and land (Moreton Bay Environmental Education Centre, 2020).
The resource is specific to the Quandamooka people and their country (Australian Institute of Aboriginal and Torres Strait Islander Studies, 2019). Using this poster, educators can use the weblink provided for the Winnam organisation to email the Winnam board of directors to take steps toward making connections with local Indigenous people within the Wynnum area (Winnam Indigenous Corporation, 2018). Through creating connections with local Indigenous people, educators can begin to explore Indigenous ways of knowing and being (DEEWR, 2009).
Commitment to reconciliation within the early years drove the creation of this resource to bring awareness to making meaningful connections with local Indigenous people and land (Reconciliation Australia, 2017). Educators who use this resource can take steps to connect with Quandamooka people and view events of Quandamooka people within the Wynnum and surrounding areas to attend as excursions with the children at their childcare service or share with families and attend themselves to learn about local Indigenous culture, people and their connections to the land (Quandamooka Coast, 2020). Furthermore, utilizing the Moreton Bay Environmental Centre website with connections to the Australian Curriculum can provide children and educators with knowledge of Quandamooka people and Quandamooka land (Moreton Bay Environmental Education Centre, 2020).
Information from all the websites provided on this poster can be used to enhance an educational setting by providing opportunities for the children to make real life connections to the Quandamooka people, their larger community and where they live and learn. Children's education can be enhanced through inviting elders from the Winnam organisation to come and talk to students about the Quandamooka people, land and culture; utilizing local knowledge from Winnam elders to take children on local excursions to make connections between local Indigenous knowledge and their community.  Children making connections with their community invites children to become active citizens who have authentic connections and partnerships with local Indigenous communities (DEEWR, 2009).
Providing families with information via digital newsletters about local Quandamooka events and celebrations will contribute to local opportunities for children and families to make authentic and respectful community connections.
This resource is intended to provide educators with local Indigenous resources to build cultural bridges between Western learning and Indigenous learning. It is vital for educators to build respectful partnerships with local Indigenous communities and both Indigenous and non-Indigenous families.  It is through building cultural bridges that authentic and respectful partnerships can develop by sharing culturally valued knowledges, history and understandings to shape children's learning through a collaborative process.  For Indigenous children, it is their connections to their culture, family and land that shape their identity (Department of Education and Training, 2011). Within the National Quality Standard (ACECQA, 2018), Quality Area 6 provides further information about the importance of authentic partnerships and collaborations with families and the local community to provide children with learning opportunities for inclusive practice and respect of diverse cultures. It is through these collaborative interactions that educators can build their own knowledge and be supportive of children becoming active participants within their local community.
Early Years Learning Framework (DEEWR, 2009)
Outcome 2: Children are connected with and contribute to their world
National Quality Standard (ACECQA, 2018)
Quality Area 6 – Collaborative partnerships with families and communities

6.2 Collaborative partnerships: Collaborative partnerships enhance children's inclusion, learning and wellbeing

6.2.2 Access and participation
6.2.3 Community engagement