17

English to Vietnamese phrases

Kelly Barden
I need words in different languages to comfort children when they're upset or for toilet training. Can someone make a resource with simple, useful phrases that we could use with children? 85% of our children are Vietnamese but resources in any of Australia's community languages would be great!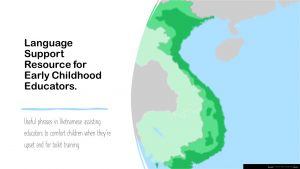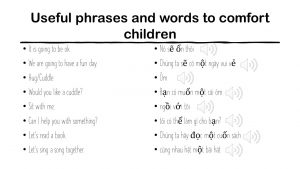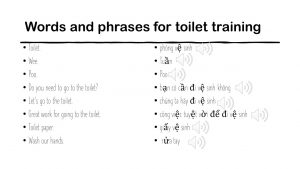 Download the resource: Barden Intercultural resource
The resource includes phrases and words that are written in English then translated to Vietnamese in both written and verbal texts. The resource provides educators the opportunity to learn simple phrases and words that will assist them in comforting and toilet training children whose primary language is Vietnamese. This resource can be kept on the centre's laptop which will enable educators to access it throughout the day if required.
One of the concerns that has arisen about professional learning for multicultural education is the need for a resource that contains words and phrases in different languages (specifically Vietnamese) that could assist educators in comforting and toilet training children in their care. Language is one of the main ways that culture is expressed. Language is central to the human experience and it has a major impact on how we connect with each other (USQ, 2020). Hyde, Carpenter and Dole (2017) support this view and highlight that as bilingualism increases within Australian society it is essential for educators to support children from linguistical diverse backgrounds. It is through a sociocultural approach where language and culture are valued that this resource is derived. It provides educators with the opportunity to learn about the children's language and encourages unity between educators, the children and families. McBride (2011) suggested that unity, openness and social interactions are the core principles of sociocultural theory and it is through quality social interactions that language development is enhanced. When educators are culturally responsive and embrace the different languages that children in their care speak they are showing their respect for diversity enabling them to build positive relationships and create a sense of belonging for the children and their families (DEEWR, 2009). Through engaging with children with their heritage languages the educators are supporting and fostering the children's cultures and showing their respect for diversity.
Early Years Learning Framework (DEEWR, 2009)
Outcome 1: Children have a strong sense of identity

1.1 Children feel safe, secure, and supported
1.3 Children develop knowledgeable and confident self identities

Outcome 2: : Children are connected with and contribute to their world

2.1 Children develop a sense of belonging to groups and communities and an understanding of the reciprocal rights and responsibilities necessary
for active community participation