6

Acknowledgement of country

Georgia Butler
We're mostly white educators at our service and we're not sure; how much are we allowed to share of Indigenous culture? Are there any guidelines?
My Acknowledgement of Country Activity
Organisation for the activity is group time on a large mat area with the educator or teacher writing responses on a whiteboard in front of children.
This activity begins with inquiry questions:
• What is an Acknowledgement of Country?
• What is the purpose of an Acknowledgement to Country?
• How does an Acknowledgement of Country differ from a Welcome to Country?
• How is an Acknowledgement of Country an act of reconciliation?
• How can I include my own thoughts in an Acknowledgement of Country?
An Acknowledgement of Country is different from a Welcome to Country, which is a formal welcome onto land and can only be delivered by Traditional Owners or Aboriginal and Torres Strait Islander people who have been given permission from Traditional Owners to welcome visitors to their Country.
An 'Acknowledgment of Country' is a way of showing respect for the Traditional Owners and can be given by both non-Indigenous people and Aboriginal and Torres Strait Islander people who are connected to another place. An Acknowledgement of Country should include a reference to the Traditional Owners/Custodians of the area and a statement of respect for Elders past, present and future, (Reconcilliation Australia, n.d.a).
Children should be encouraged to think about what it means to them to acknowledge country. Ask for answers and write these on whiteboard, along with inquiry answers. Present and distribute hand cut outs and ask students to put what words from the board that they think should be included in an acknowledgement onto each finger. Depending on writing ability, educators and teachers may need to assist with this.
This activity can be extended to involving use of ICT'S to allow research for children and educators or teachers into the local Traditional Owners/Custodians of the area, what is significant about the local environment, significant sites close to the area and how does the local community acknowledge country.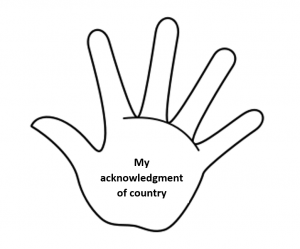 Rationale
This group inquiry activity is aimed at early years and primary students to help them and teachers gain an understanding of why we do Acknowledgements to Country and the difference between this and a Welcome to Country. It also allows children to develop their own unique and meaningful Acknowledgement of Country that they can use on an ongoing basis.
Acknowledging Country has become common practice at the start of events such as school assemblies, meetings, and presentations. Sometimes we forget about the significance of the act of acknowledging Country (Reconciliation Australia, n.d.a). The basis of this activity was sourced from a website by Reconciliation Australia called 'Narragunnawali'. It is a school and early learning service resource that helps teachers and educators develop environments that foster a high level of knowledge and pride in Aboriginal and Torres Strait Islander histories, cultures and contributions.
This activity is an appropriate response to the educator concern as it details what is appropriate for educators to share with children and what is only reserved for Indigenous peoples. The learnings from this activity include that children recognise and respect the continuing connection that Aboriginal and Torres Strait Islander people have to Country, they understand the difference between an Acknowledgement of Country and a Welcome to Country and understand the significance of Acknowledging Country. This activity also aligns with the Queensland Curriculum and Assessment Authority (QCAA) strategies for 'Welcoming Aboriginal and Torres Strait Islander children in kindergarten' (2018) as it allows children to foster a greater sense of belonging to the service and sharing their culture with others.
This activity uses a strengths-based approach to Indigenous cultural education as it acknowledges and honours cultural identity and diversity by incorporating Aboriginal and Torres Strait Islander standpoints into the curriculum. Therefore, this then recognises the skills and expertise that exist in the community to support Aboriginal and Torres Strait Islander children and makes the setting/school culturally safe and welcoming for parents, carers and community members. It also supports teachers in gaining a better understanding of the cultural knowledge that students bring to early learning settings, (ACER, 2010).
This activity links to The Early Years Learning Framework (DEEWR, 2009), through its respect for diversity principle, cultural competence practice and Learning Outcomes 1 and 2. Outcome 1: Children have a strong sense of identity –  Children develop knowledgeable and confident self-identities and Outcome 2: Children are connected with and contribute to their world – Children develop a sense of belonging to groups and communities and an understanding of the reciprocal rights and responsibilities necessary for active community participation and Children respond to diversity with respect.
It also links to the Queensland Kindergarten Learning Guideline (QCAA, 2018), through its Learning and Development areas of Identity – Key focus: Building a confident self-identity and Connectedness – Key Focus: Showing respect for diversity.