7

Writing a Literature Review
Hundreds of original investigation research articles on health science topics are published each year. It is becoming harder and harder to keep on top of all new findings in a topic area and – more importantly – to work out how they all fit together to determine our current understanding of a topic. This is where literature reviews come in.
In this chapter, we explain what a literature review is and outline the stages involved in writing one. We also provide practical tips on how to communicate the results of a review of current literature on a topic in the format of a literature review.
7.1 What is a literature review?

Literature reviews provide a synthesis and evaluation  of the existing literature on a particular topic with the aim of gaining a new, deeper understanding of the topic.
Published literature reviews are typically written by scientists who are experts in that particular area of science. Usually, they will be widely published as authors of their own original work, making them highly qualified to author a literature review.
However, literature reviews are still subject to peer review before being published. Literature reviews provide an important bridge between the expert scientific community and many other communities, such as science journalists, teachers, and medical and allied health professionals. When the most up-to-date knowledge reaches such audiences, it is more likely that this information will find its way to the general public. When this happens, – the ultimate good of science can be realised.
A literature review is structured differently from an original research article. It is developed based on themes, rather than stages of the scientific method.
In the article Ten simple rules for writing a literature review, Marco Pautasso explains the importance of literature reviews:
Literature reviews are in great demand in most scientific fields. Their need stems from the ever-increasing output of scientific publications. For example, compared to 1991, in 2008 three, eight, and forty times more papers were indexed in Web of Science on malaria, obesity, and biodiversity, respectively. Given such mountains of papers, scientists cannot be expected to examine in detail every single new paper relevant to their interests. Thus, it is both advantageous and necessary to rely on regular summaries of the recent literature. Although recognition for scientists mainly comes from primary research, timely literature reviews can lead to new synthetic insights and are often widely read. For such summaries to be useful, however, they need to be compiled in a professional way (Pautasso, 2013, para. 1).
An example of a literature review is shown in Figure 7.1.
Video 7.1: What is a literature review? [2 mins, 11 secs]
Watch this video created by Steely Library at Northern Kentucky Library called 'What is a literature review? Note: Closed captions are available by clicking on the CC button below.
Examples of published literature reviews
7.2 Steps of writing a literature review
Writing a literature review is a very challenging task. Figure 7.2 summarises the steps of writing a literature review. Depending on why you are writing your literature review, you may be given a topic area, or may choose a topic that particularly interests you or is related to a research project that you wish to undertake.
Chapter 6 provides instructions on finding scientific literature that would form the basis for your literature review.
Once you have your topic and have accessed the literature, the next stages (analysis, synthesis and evaluation) are challenging. Next, we look at these important cognitive skills student scientists will need to develop and employ to successfully write a literature review, and provide some guidance for navigating these stages.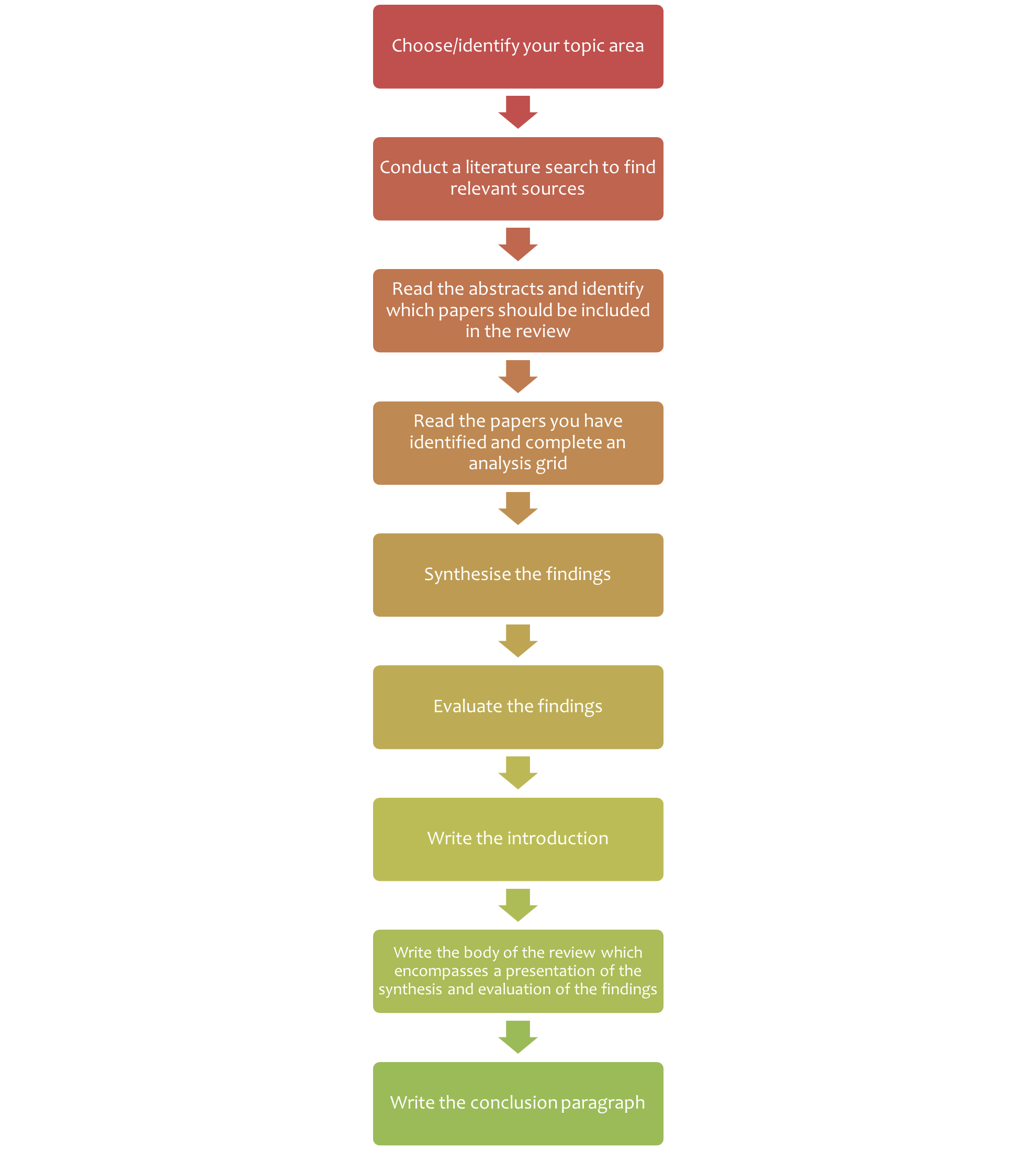 Analysis, synthesis and evaluation
Analysis, synthesis and evaluation are three essential skills required by scientists  and you will need to develop these skills if you are to write a good literature review (Figure 7.3). These important cognitive skills are discussed in more detail in Chapter 9.

Analysis
The first step in writing a literature review is to analyse the original investigation research papers that you have gathered related to your topic.
Analysis requires examining the papers methodically and in detail, so you can understand and interpret aspects of the study described in each research article.
An analysis grid is a simple tool you can use to help with the careful examination and breakdown of each paper. This tool will allow you to create a concise summary of each research paper; see Table 7.1 for an example of  an analysis grid. When filling in the grid, the aim is to draw out key aspects of each research paper. Use a different row for each paper, and a different column for each aspect of the paper (Tables 7.2 and 7.3 show how completed analysis grid may look).
Before completing your own grid, look at these examples and note the types of information that have been included, as well as the level of detail. Completing an analysis grid with a sufficient level of detail will help you to complete the synthesis and evaluation stages effectively. This grid will allow you to more easily observe similarities and differences across the findings of the research papers and to identify possible explanations (e.g., differences in methodologies employed) for observed differences between the findings of different research papers.
Table 7.1: Example of an analysis grid
| Author, date and rationale | Aim | Experimental design | Results | Conclusion | Evaluation of findings |
| --- | --- | --- | --- | --- | --- |
| [include details about the authors, date of publication and the rationale for the review] | [summarise the aim of the experiment] | [summarise the experiment design, include the subjects used and experimental groups] | [summarise the main findings] | [summarise the conclusion] | [evaluate the paper's findings, and highlight any terms or physiology concepts that you are unfamiliar with and should be included in your review] |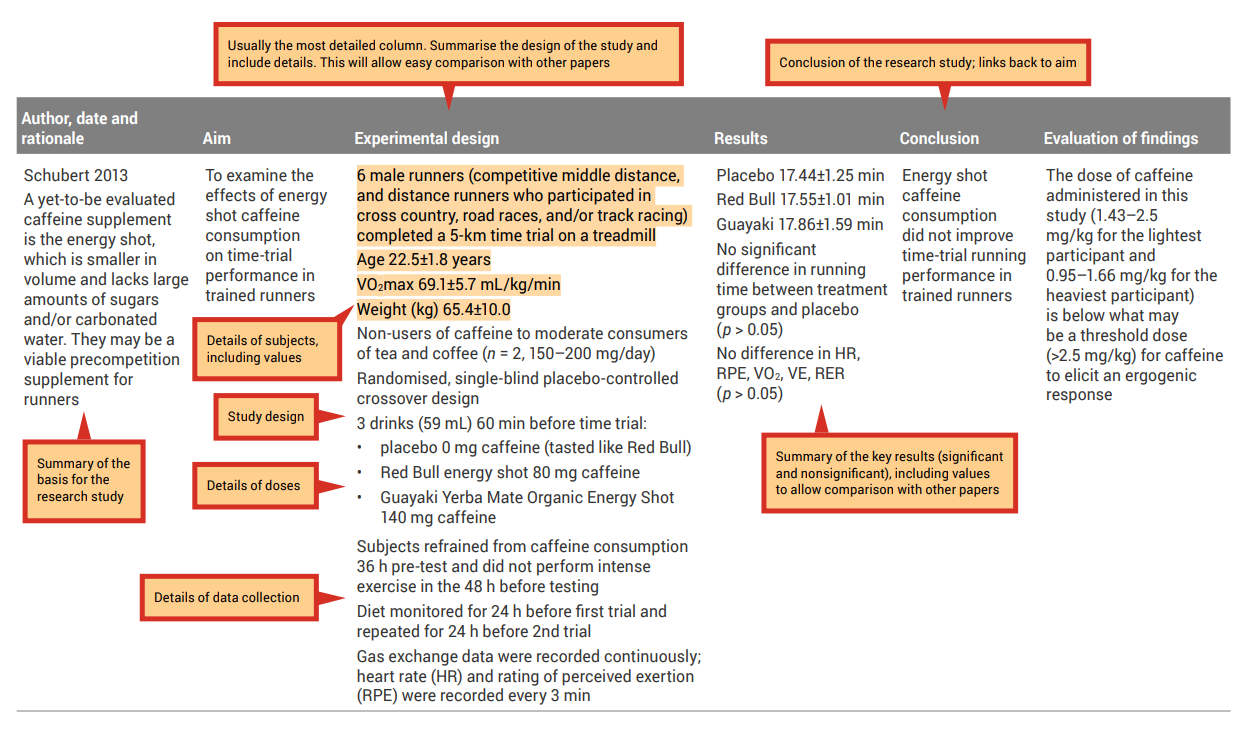 Table 7.3: Sample filled-in analysis grid for research article by Ping and colleagues
Author, date and rationale
Aim
Experimental design
Results
Conclusion
Evaluation of findings
Ping 2010
The effect of chronic caffeine supplementation on endurance performance has been studied extensively in different populations. However, concurrent research on the effects of acute supplementation of caffeine on cardiorespiratory responses during endurance exercise in hot and humid conditions is unavailable
To determine the effect of caffeine supplementation on cardiorespiratory responses during endurance running in hot and humid conditions
9 heat-adapted recreational male runners
Age 25.4±6.9 years
Weight (kg) 57.6±8.4
Non-users of caffeine (23.7±12.6 mg/day)
Randomised, double-blind placebo-controlled cross-over design (at least 7 days gap between trials to nullify effect of caffeine)
Caffeine (5 mg/kg) or placebo ingested as a capsule one hour before a running trial to exhaustion (70% VO2 max on a motorised treadmill in a heat-controlled laboratory (31 °C, 70% humidity)
Diet monitored for 3 days before first trial and repeated for 3 days before 2nd trial (to minimise variation in pre-exercise muscle glycogen)
Subjects asked to refrain from heavy exercise for 24 h before trials
Subjects drank 3 ml of cool water per kg of body weight every 20 min during running trial to stay hydrated
Heart rate (HR), core body temperature and rating of perceived exertion (RPE) were recorded at intervals of 10 mins, while oxygen consumption was measured at intervals of 20 min
Mean exhaustion time was 31.6% higher in the caffeine group:
• Placebo 83.6±21.4
• Caffeine 110.1±29.3
Running time to exhaustion was significantly higher (p < 0.05) in the caffeine trial compared to the placebo trial
HR, core body temp, VO2 did not show any significant variation between trials (p > 0.05)
Caffeine ingestion significantly (p < 0.05) decreased the RPE at 30, 40, 50 and 60 min. There were no differences (p > 0.05) between trials at 10 and 20 minutes, and at the end of the trial.
Ingestion of caffeine improved the endurance running performance, but did not affect heart rate, core body temperature, oxygen uptake or RPE.
The lower RPE during the caffeine trial may be because of the positive effect of caffeine ingestion on nerve impulse transmission, as well as an analgesic effect and psychological effect. Perhaps this is the same reason subjects could sustain the treadmill running for longer in the caffeine trial.
Source: Ping, WC, Keong, CC & Bandyopadhyay, A 2010, 'Effects of acute supplementation of caffeine on cardiorespiratory responses during endurance running in a hot and humid climate', Indian Journal of Medical Research, vol. 132, pp. 36–41. Used under a CC-BY-NC-SA licence.

Synthesis
Step two of writing a literature review is synthesis.
Synthesis describes combining separate components or elements to form a connected whole.
You will use the results of your analysis to find themes to build your literature review around. Each of the themes identified will become a subheading within the body of your literature review.
A good place to start when identifying themes is with the dependent variables (results/findings) that were investigated in the research studies.
Because all of the research articles you are incorporating into your literature review are related to your topic, it is likely that they have similar study designs and have measured similar dependent variables. Review the 'Results' column of your analysis grid. You may like to collate the common themes in a synthesis grid (see, for example Table 7.4).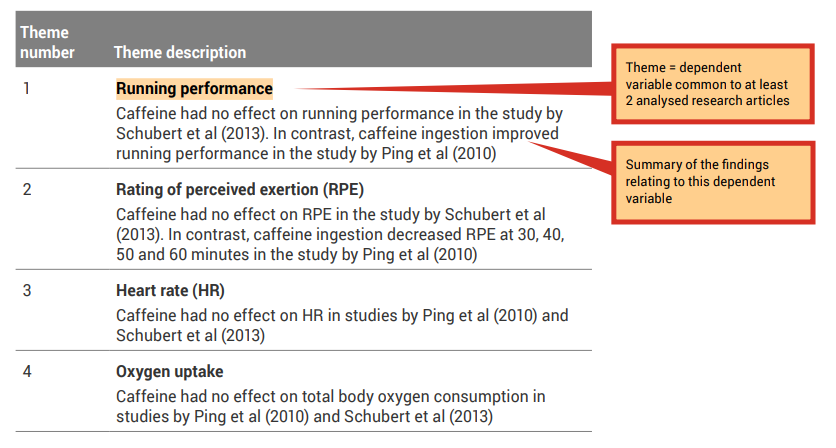 Evaluation
Step three of writing a literature review is evaluation, which can only be done after carefully analysing your research papers and synthesising the common themes (findings).
During the evaluation stage, you are making judgements on the themes presented in the research articles that you have read. This includes providing physiological explanations for the findings. It may be useful to refer to the discussion section of published original investigation research papers, or another literature review, where the authors may mention tested or hypothetical physiological mechanisms that may explain their findings.
When the findings of the investigations related to a particular theme are inconsistent (e.g., one study shows that caffeine effects performance and another study shows that caffeine had no effect on performance) you should attempt to provide explanations of why the results differ, including physiological explanations. A good place to start is by comparing the methodologies to determine if there are any differences that may explain the differences in the findings (see the 'Experimental design' column of your analysis grid). An example of evaluation is shown in the examples that follow in this section, under 'Running performance' and 'RPE ratings'.
When the findings of the papers related to a particular theme are consistent (e.g., caffeine had no effect on oxygen uptake in both studies) an evaluation should include an explanation of why the results are similar. Once again, include physiological explanations. It is still a good idea to compare methodologies as a background to the evaluation. An example of evaluation is shown in the following under 'Oxygen consumption'.
7.3 Writing your literature review
Once you have completed the analysis, and synthesis grids and written your evaluation of the research papers , you can combine synthesis and evaluation information to create a paragraph for a literature review (Figure 7.4).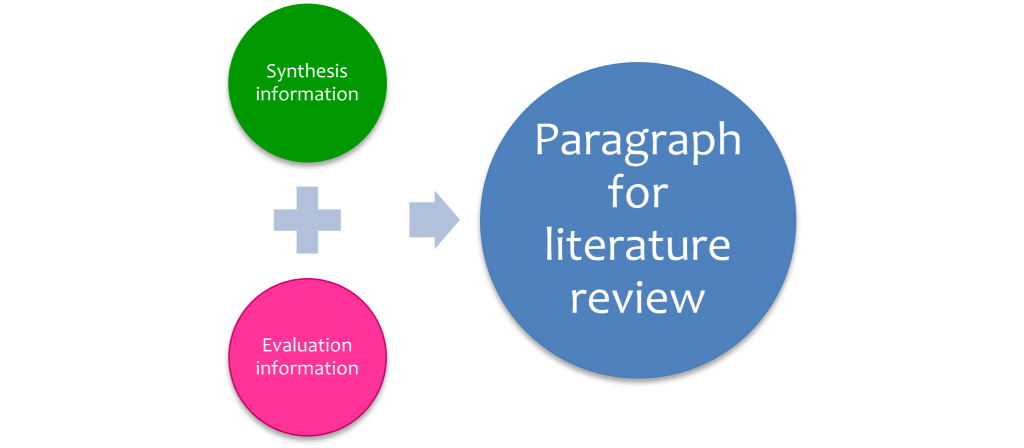 The following paragraphs are an example of combining the outcome of the synthesis and evaluation stages to produce a paragraph for a literature review.
Note that this is an example using only two papers – most literature reviews would be presenting information on many more papers than this ( (e.g., 106 papers in the review article by Bain and colleagues discussed later in this chapter). However, the same principle applies regardless of the number of papers reviewed.
The next part of this chapter looks at the each section of a literature review and explains how to write them by referring to a review article that was published in Frontiers in Physiology and shown in Figure 7.1. Each section from the published article is annotated to highlight important features of the format of the review article, and identifies the synthesis and evaluation information.
In the examination of each review article section we will point out examples of how the authors have presented certain information and where they display application of important cognitive processes; we will use the colour code shown below:
Abstract
This should be one paragraph that accurately reflects the contents of the review article.
Introduction
The introduction should establish the context and importance of the review
Body of literature review
References
The reference section provides a list of the references that you cited in the body of your review article. The format will depend on the journal of publication as each journal has their own specific referencing format.
It is important to accurately cite references in research papers to acknowledge your sources and ensure credit is appropriately given to authors of work you have referred to. An accurate and comprehensive reference list also shows your readers that you are well-read in your topic area and are aware of the key papers that provide the context to your research.
It is important to keep track of your resources and to reference them consistently in the format required by the publication in which your work will appear. Most scientists will use reference management software to store details of all of the journal articles (and other sources) they use while writing their review article. This software also automates the process of adding in-text references and creating a reference list. In the review article by Bain et al. (2014) used as an example in this chapter, the reference list contains 106 items, so you can imagine how much help referencing software would be. Chapter 5 shows you how to use EndNote, one example of reference management software.
Click the drop down below to review the terms learned from this chapter.
Copyright note:
The quotation from Pautasso, M 2013, 'Ten simple rules for writing a literature review', PLoS Computational Biology is use under a CC-BY licence. 
Content from the annotated article and tables are based on Schubert, MM, Astorino, TA & Azevedo, JJL 2013, 'The effects of caffeinated 'energy shots' on time trial performance', Nutrients, vol. 5, no. 6, pp. 2062–2075 (used under a CC-BY 3.0 licence) and

P

ing, WC,

Keong

, CC & Bandyopadhyay, A 2010, 'Effects of acute supplementation of caffeine on cardiorespiratory responses during endurance running in a hot and humid climate', Indian Journal of Medical Research, vol. 132, pp. 36–41 (used under a CC-BY-NC-SA 4.0 licence). 
references
Bain, A.R., Morrison, S.A., & Ainslie, P.N. (2014). Cerebral oxygenation and hyperthermia. Frontiers in Physiology, 5, 92.
Pautasso, M. (2013). Ten simple rules for writing a literature review. PLoS Computational Biology, 9(7), e1003149.