Diverse and Inclusive Imagery
When people 'cannot find themselves reflected in the books they read', or in the images they see 'they learn a powerful lesson about how they are devalued in a society of which they are a part,' (Sims-Bishop, 1990).  This is why representation is so important. We should aspire to the below aims when it comes to using imagery in OER. The actions and considerations below will help you ensure the illustrations in your OER are diverse and inclusive.
Aims
Illustrations and photos are reflective of diverse populations, and the intersectionality and context of the depiction are considered.
Imagery does not perpetuate stereotypes.
Actions and Considerations
Assess the number of images and illustrations and the individuals and populations represented therein. Are all populations equitably represented throughout the resource?
Assess the role, depiction, connotation, expressions of authority, and purpose of the people represented in the image. Are any stereotypes perpetuated? Does the background or setting of the image indicate anything negative?
Include images of people in a variety of actions where the context of the image does not relate to their identity. For example, showing a person in a wheelchair can be included in images not directly related to disability. An example can be found in an image of a person eating cotton candy in a section of a biology textbook discussing carbohydrates.
Images of Aboriginal and Torres Strait Islander Peoples
Many historical images of Aboriginal and Torres Strait Islander Peoples lack any contextual information. It can be impossible to trace the names of peoples or locations that feature in the images. As a result, it can be inappropriate and offensive to publish them. Avoid using photographs where people are unnamed. Illustrations and photographs should include diverse, dynamic and contemporary representations of Aboriginal and Torres Strait Islander peoples. Visual representations will depend on context.
Permissions
The permissions process is vital and differs from standard copyright procedures. As well as consulting with Elders and/or Traditional Owners, there are other steps to take. When seeking permissions for the use of any item, individuals sometimes need to provide approvals too.
Example: You have images of a group of people you wish to print. You are already in consultation with the Elders or relevant family groups in the community and they are happy with what you have. You then learn that you also have to ask the individuals within any image for approval. This is not a firm rule, but one example of how things can change. Always follow the guidance of the appropriate Elders or community members.
Content Warning
Additionally, when depicting Aboriginal and Torres Strait Islander peoples in visual materials, issue the warning below:
Warning: Aboriginal and Torres Strait Islander viewers are warned that the following material may contain images and voices of deceased persons.
Representing Invisible Disabilities
Many disabilities including mental health conditions and neurodivergent conditions such as Autism and ADHD are hidden. They can't be visually represented the way that some disabilities can. However, you can normalise neurodivergent accommodations by using visuals of people managing their sensory inputs using headphones or dark glasses or using sensory toys or stim toys such as fidget spinners (Katz, 2022). Other examples include featuring more images of people wearing medical devices such as hearing aids or blood glucose monitors.
Good practice example: Diverse and inclusive imagery in USQ's open text 'Academic Success'
Through the application of an Indigenous lens, we were able to create splashes of text, diagrams, and imagery designed to not only engage Aboriginal and Torres Strait Islander students but all students – Debi Howarth.In 2020, the University of Southern Queensland (USQ) Library staff developed an open text titled Academic Success, which was adapted from College Success by Amy Baldwin and colleagues from the University of Central Arkansas. We were mindful of the imagery we chose for our open text as we wanted students to see themselves reflected in the book. Photos of People of Colour (POC) slightly outweighed white representation within the text, and we included photographs of individuals with African heritage, Asian-Pacific heritage and Aboriginal heritage. The photographs were a mix of genders, ages and body types. Sam Conway, our Learning Advisor (Indigenous) also created Indigenous learning maps (see below). "Through the application of an Indigenous lens we were able to create splashes of text, diagrams, and imagery designed to not only engage Aboriginal and Torres Strait Islander students but all students," (Howarth & Hargreaves, 2021).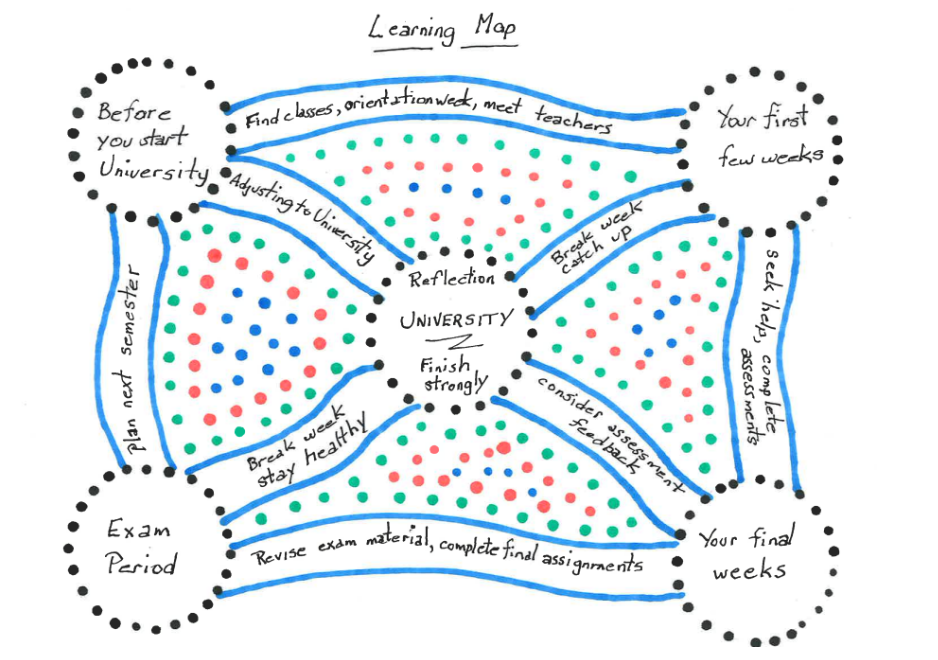 Resources for diverse and inclusive representation
The list of websites below provides diverse and inclusive illustrations to add to your OER. All of these websites license their imagery under a Creative Commons licence but please make sure you are following the terms of the licence correctly.