Ways in which USQ Library has contributed to reducing inequalities
University libraries provide a range of services that remove barriers to information, including online resources, research publications and spaces for community use.
USQ is committed to making higher education available to everyone, regardless of location, socioeconomic status, technology or access to information. USQ Library provides services to students who live in remote and regional Australia, to incarcerated students and promotes open education and research to remove barriers to knowledge.
Reconciliation Action Plan
Marjorie Jeffers, Liaison Librarian
USQ Library takes an active role in reconciliation. Through representation on the USQ Reconciliation Working Group, we learn, reflect, and share ways to support the opportunities and success of Aboriginal and Torres Strait Islander students and staff. The Library acknowledges that Aboriginal and Torres Strait Islander peoples hold unique knowledge and knowledge systems. In turn, we consider all library work, including resources, information organisation, spaces and programs, should include and reflect this importance. We have commenced collection development initiatives to increase resources that reflect the knowledge and experience of Aboriginal and Torres Strait Islander peoples. We continue to expand the ways we reflect and promote reconciliation principles in our spaces, digital content, and teaching delivery.
Library Course Readings System
Robyn Tweedale, Associate Director, Learning and Research
A new Course Readings System, embedded in the StudyDesk, has helped USQ Library provide simplified, rapid and equitable access to electronic readings and digitised of print readings for USQ students living all over Australia and the world. The new Course Readings platform was introduced and made accessible for all USQ courses in 2020. With much simplified processes and better interfaces, it has ensured easier compliance with copyright regulations.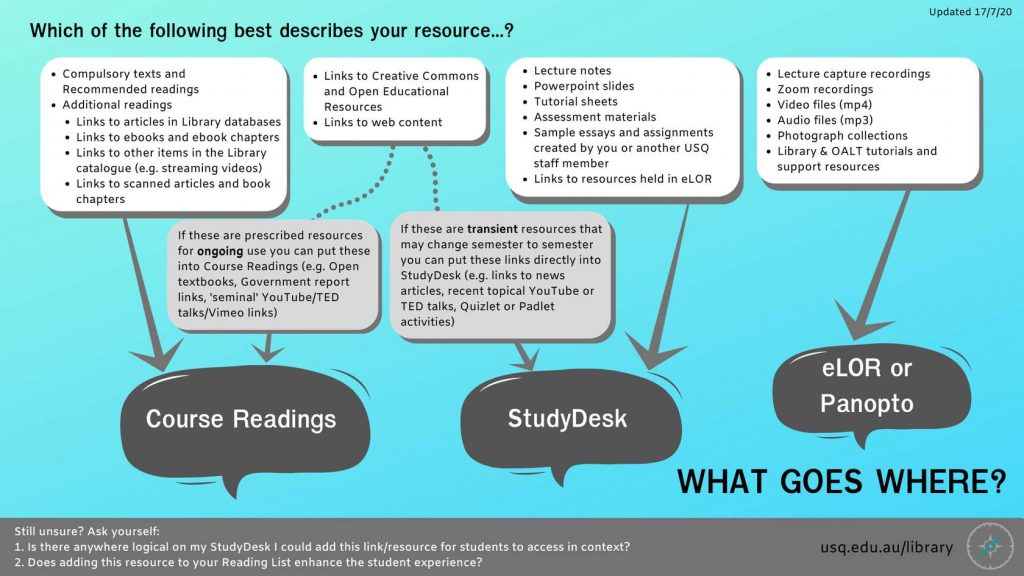 The Course Readings System allows academic staff to add readings quickly and easily, reducing reliance on access to expensive textbooks and print resources. Staff can even build reading lists collaboratively with USQ students, enhancing the curriculum and ensuring better learning support. Liaison Librarians developed a suite of digital training materials to help staff and students learn to use the new platform. Feedback from academics and professional staff have confirmed that the platform provides easier and improved access to information resources and readings to support learning and teaching objectives.
USQ Library's Associate Director (Learning and Research) delivered a presentation at VALA 2020 with staff from University of Sunshine Coast Library and Bond University Library about the implementation and lessons learned in across academic libraries.